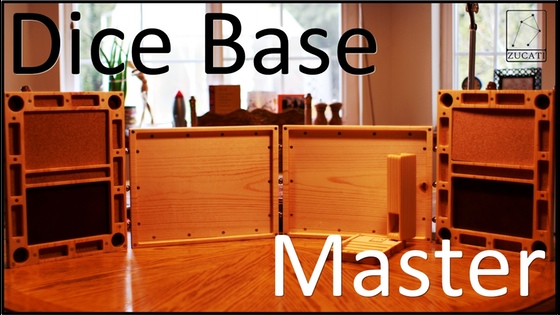 Dice Base: Master - Magnetic Game Screen - RPG and Tabletop
Created by Hal Zucati
A more complete alternative to the Wyrmwood Magnetic GM Screen. More options. More features. Integrated storage and transport included.
Latest Updates from Our Project:
No changes...
11 months ago – Sat, Aug 11, 2018 at 09:35:59 AM
Nothing new to report.
  - Hal
24 of 42 machined
12 months ago – Fri, Jul 06, 2018 at 02:10:15 AM
Leaving 18 or so (depending on failure) to machine.
 Pile of screens yet to be side-drilled 
 Were sending out another screen later today and continuing to assemble and ship.
Just ordered another 5000 magnets along with more acrylic, leather and balls.
Thanks everyone!
 - Hal
Surveys Unlocked - Need to update your shipping address?
12 months ago – Tue, Jul 03, 2018 at 12:06:16 PM
You now can.
We'll let you know before we lock things down again but as of now, all surveys are open to address changes.
Everyone has been re-invited to come make any needed changes via e-mail so check your spam folders!
 - Hal
Two more - Out the Door.
about 1 year ago – Sat, May 05, 2018 at 10:58:00 PM
Backers asked to be annomous this time round.
Sorry folks.
Taking today to clean up my programming directory.... its gottena  bit... agressive.
Tomrorrow is the shop cleaning day.
Then its back on screens.
 - Hal
Two more screens almost ready to ship... which ones?
about 1 year ago – Wed, Apr 25, 2018 at 11:46:15 PM
You'll know by the 30th.
 - Hal